08-11-2018, 10:50 AM (This post was last modified: 08-11-2018, 11:19 AM by acquiresimoleons.)
Here I will post resources and tips for getting ts2 to launch and run smoothly on a newer PC, plus the hacks (like windowed mode) that everyone needs for their sanity. Stay tuned
So you want to play ts2, but you have a newer and better PC on a newer OS than the recommended settings? Never fear, it can be done! And it's easier than you'd think
What you'll need:
game install, whether through disks or the UC collection on origin.

If you're using disks you will need the Securom Removal Tool but the UC collection has it scrubbed from its files with an update from Origin.

Sims 2 nocd hack, while supposedly not required, your game will have an error and crash if you don't use this. Don't worry if it gets flagged as a virus, something about the exe reaaaally upsets security stuff. If you're worried, I will send you mine.

The Sims 2 Graphics Rules Maker - this thing is amazing. It automatically detects your hardware and will write a new graphicsrules for you. We'll go over how to use this soon.

Step one: install your game as you normally would.
Step two: replace the original exe with the no CD version. Find the correct filepath, for instance mine is:
C:\Program Files (x86)\Origin Games\The Sims 2 Ultimate Collection\Fun with Pets\SP9\TSBin
Cut the NOCD exe and paste it in here. Tell your computer you really mean it when it complains, because it doesn't like alterations made in program files.
Step three: Install and open sims 2 graphics rules maker. Select the right game, it should detect your install automatically. For better instructions on how to use this,
go to this forum thread
. Note that you don't need to turn off shadows in this, setting it to medium in game will get rid of the black boxes. When you're finished making your new graphicsrules, hit 'save files.'
Step four: Now to make your game launch in windowed mode, go to the shortcut you're going to use to open your game. Mine is on my desktop, so I right click on it and go to properties. In the target section you want it to look like this: "C:\Program Files (x86)\Origin Games\The Sims 2 Ultimate Collection\Fun with Pets\SP9\TSBin\Sims2EP9.exe" -w
So the normal game path already there, a space and then -w for windowed mode. To launch it in a specific resolution -w (and another space), add the option -r<resolution>... for example, -r800x600 or -r1024x768 or -r1280x1024.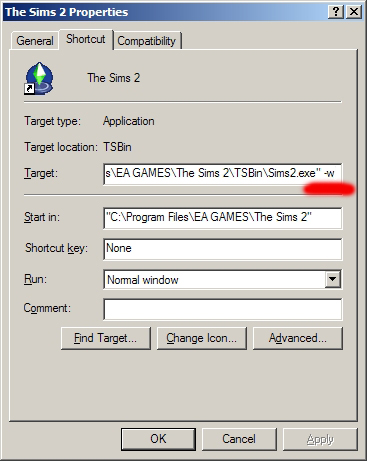 Your game should launch without any issues.
[url=https://stroda.dreamwidth.org/806.html][/url]
I'll go over the 4GB patch and reshade next, plus bodyshop and cc/mods.